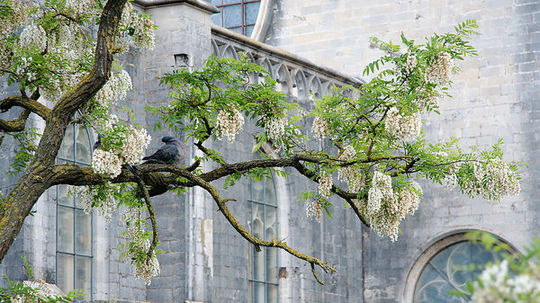 Time to update this site with a new picture. It is from our holiday in Spain. Maybe the makers of The Elder Scrolls - Oblivion where also inspired by the city of Girona? At least the atmosphere there reminded me of the game.
Update: Probably fixed my rss feed.
I seem to have broken the utf-8 support on my site, but it is now fixed. Update: again...
ᛖᚴ ᚷᛖᛏ ᛖᛏᛁ ᚧ ᚷᛚᛖᚱ ᛘᚾ ᚦᛖᛋᛋ ᚨᚧ ᚡᛖ ᚱᚧᚨ ᛋᚨᚱ
Today I installed Ubuntu Hardy Heron on a desktop computer. I am pretty distro/desktop agnostic (see my ten year anniversary post), but since Debian Etch is a bit old for a desktop and Hardy Heron has Long Term Support (I do not want to update/fix a computer every half year!!) Ubuntu was my choice.
There are unlimited gnome improvements which I don't care about, but some things stand out for me in this release.
Firefox 3 is much better than 2. The memory improvements and the renewed linux (gtk) focus helps. And luckily you can disable the stupid new urlbar in about:config with browser.urlbar.maxRichResults = 0 .
The way non-free installation for media-playback, video drivers and browser plugins is handled, is sweet! The installation of this software is painless here. I even got a nice 64-bit(!) Java firefox plugin, which I was unable to install in Debian (thanks redhat/icedtea).
And most important: the colors in the gnome-terminal are smoothened. Now that is what _I_ call eye candy. Less work and much more satisfaction than the integrated compiz.real ;-).
So thanks again for all free software developers!
Good presentation on captchas by google. See this video. The group that is headed by the prof doing the presentation should easily be able to break current current used image captchas if their statements are true...
Perhaps I like it because perfectly reflects my own opinion though ;-).
Linux and 64 bit computers are a good combination. The first linux 64 bit support dates from 1995. To be able to compile everything from source really helps supporting a platform. Windows mostly runs 32 bit programs at this moment, because proprietary software vendors (which account for most windows software) are not really fast in releasing new versions. Not all is well for linux though. Macromedia Flash is such a proprietary program of which no 64 bit player exists. Now, I do not really like flash (see also a previous entry about this, but for some reason flash is used to display movies on the web. If you think that that is weird, I agree. What has a vector renderer to do with a movie codec? The masters from youtube.com can perhaps tell you; we just have to comply.
I like to watch movies, so now I have a problem... Or not? Fortunately the flash way of bringing movies is just an container trick around a normal mpeg movie, and my favorite audio/movieplayer mplayer can play them just fine.
So if you are on debian, add contrib to /etc/apt/sources.list and apt-get install iceweasel iceweasel-greasemonkey mozilla-mplayer (the mplayer plugin is broken for firefox in etch at this moment). Now you only need a way to let mozilla know how to feed the movies. This can be done with a simple script like Michael Sheldons's.
So finally I can be an ultrahip blagotuber and and bring you movies ;-)
Happy Christmas Everyone!
<- older entries